Weather Information of Interest to Gardeners
If you are working outside the current conditions are: Temperature: 38°F at 2:32 on 3/11/17. High today: 39°F at 0:25. Low Today: 38°F at 2:32.
The sky is: Overcast and the weather is: .
The wind is: North East at 5mph gusting to 9mph. Highest wind speed today: 10mph at 2:29.
Heat Index is : 39°F with a high reading of 40°F at 0:25. Heat Index stress indicator: ---. Comfort Level: Cool.
Wind chill Index is : 35°F with a low reading of 39°F at 2:32. Comfort Level: Cool.
UV Index is: 0 with a high reading of 0 at 0:00.
Solar Radiation is: 0W/sqm with a high reading of 0W/sqm at 0:00.
Sunrise: 5:59 Sunset: 17:47
Moonrise:17:07 Moonset: 5:32 Moon Percentage: 97% Moon Days: 14.
Rainfall today: 0.00in Rainfall last hour: 0.00in Rainfall last 24 hours: 0.01in. Rainfall this month: 2.16in Rainfall This Year: 6.64in.
Evapotranspiration today: 0.00in.
Agricultural/Lawn & Garden Weather Forecast Guidance (Click Here)
US Drought Monitor from CPC/NOAA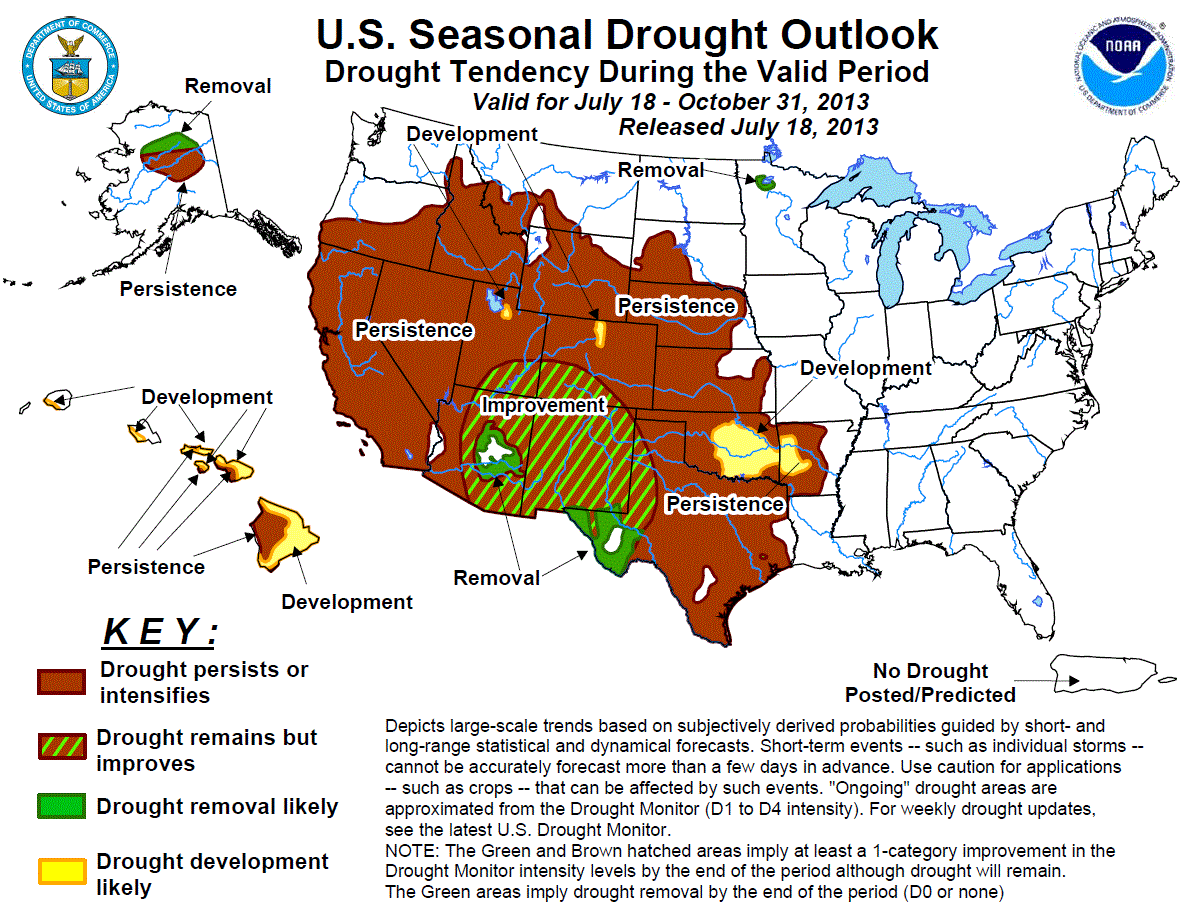 Palmer Drought Severity Map from NOAA
For More Information Click here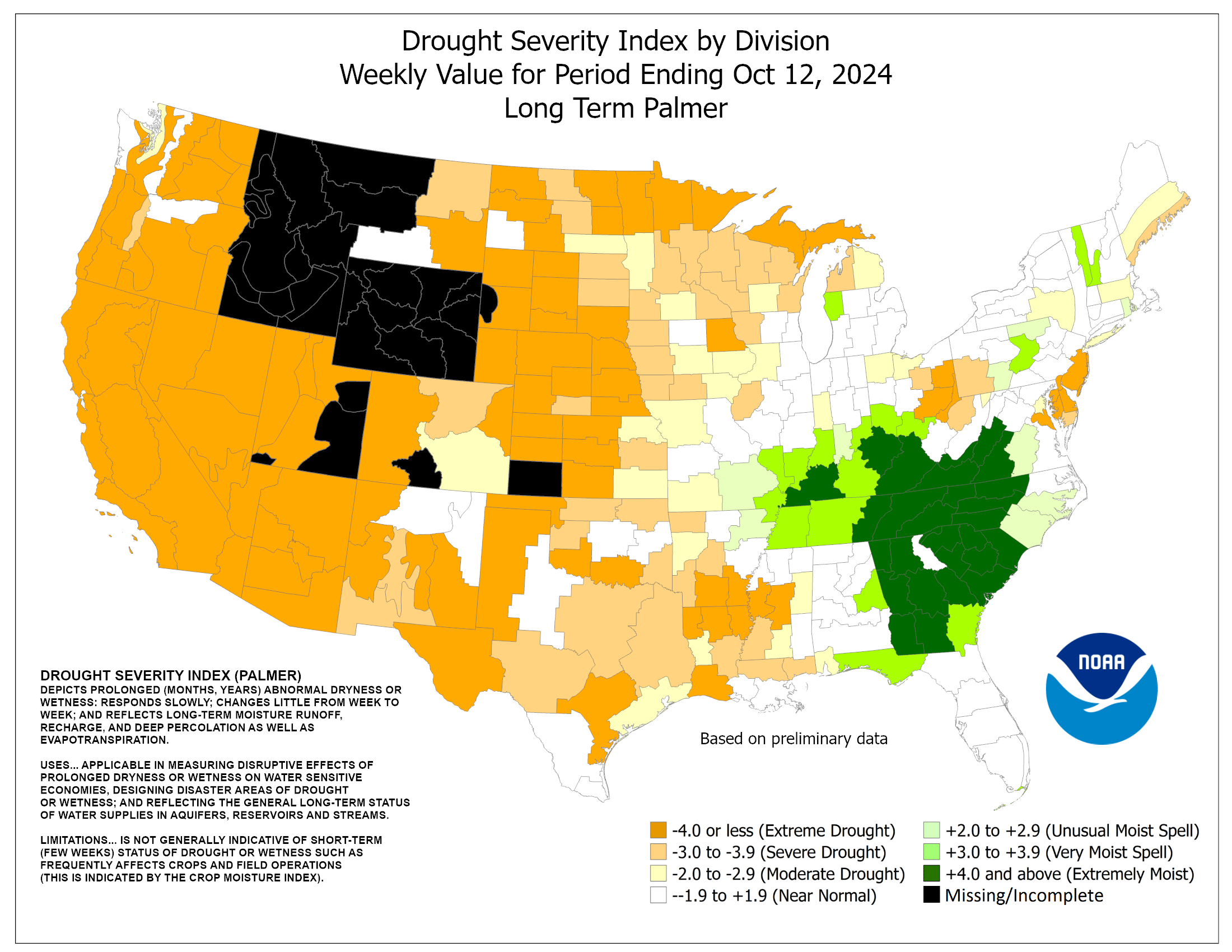 Crop Moisture Map from NOAA
For more information Click here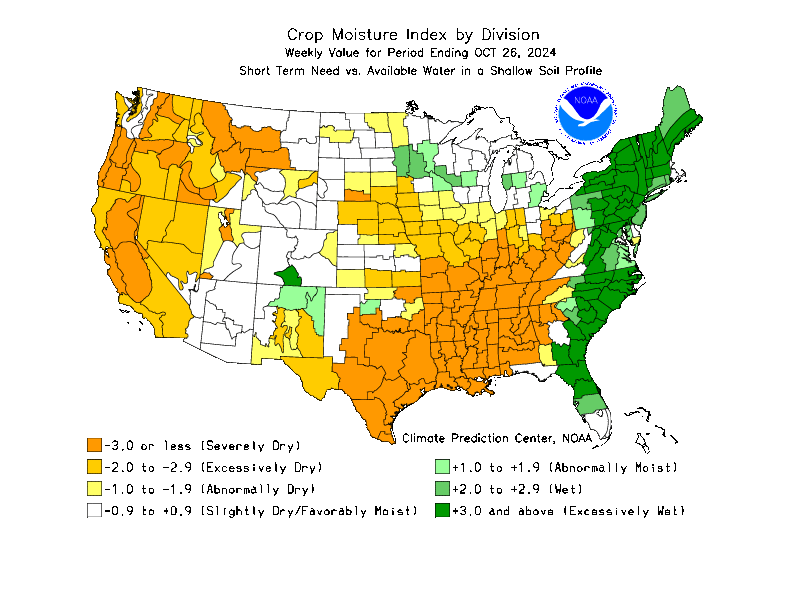 Soil Moisture Readings (4" under turf)
Use this table as a general guide to interpreting soil moisture readings. Monitoring the soil moisture readings, and comparing them to your field or lawn conditions over time, will help you develop a better understanding of how to interpret your soil moisture readings.
Update time: 3/11/17 at 2:32.
Current soil moisture reading is 0 centibar (cb). High today 0 cb. Low today 0 cb .
Current soil temperature is 50°F. High today 51°F. Low today 50°F.
Current leaf wetness reading (0 dry to 15 wet) at 42" above ground level is 0. High today 0. Low today 0.
| | |
| --- | --- |
| Centibar Reading | Soil Condition |
| 0 - 10 | Saturated Soil. |
| 10 - 30 | Soil is adequately wet ( except coarse sands which are drying out at this range) |
| 30 - 60 | Usual range to irrigate or water (except heavy clay soils). Irrigate at the upper end of this range in cool humid climates and with higher water-holding capacity soils. |
| 60 - 100 | Usual range to irrigate heavy clay soils. |
| 100 - 200 | Soil is becoming dangerously dry for maximum production. Proceed with caution. |
Precipitation Forecast from the NOAA Day 1
Precipitation Forecast from the NOAA Day 2
Precipitation Forecast from the NOAA Day 3
2012 USDA Plant Hardiness Zone Maps
ŠAll rights reserved. Unauthorized duplication or distribution is prohibited
Never base important decisions on this or any weather information obtained from the Internet
Updated Automatically by Ambient Software's Virtual Weather Station V15.00
01/17/14 15:50 -0600